As a nonprofit organization, New Heart Christian Foundation depends on the generosity of the public and a group of dedicated volunteers to help make a difference in the lives of battered women and children, displaced persons, pregnant teens, and the health and wellness of individuals, families and groups seeking assistances.
We invite you to become a part of our volunteer program. There are enough opportunities to match your interests and available time. Training programs area available for all volunteer positions.
Volunteers participate in a variety of activities according to their interests and expertise. They are involved in outreach to the community, developing volunteer programs, and have a role in fundraising activities.
Communities Advocates spread the word around their neighborhoods about the work and needs of New Heart Christian Foundation.
Donor Club members assist the word of NHCF by making regular financial contributions.
What else can you do?
Pray for NHCF
Become a NHCF intercessory prayer partner
Support NCHF financially/ contributions are tax deductible
Become a mentor
Volunteer your skills
Provide job opportunities and /or on the job training

New Heart Christian Foundation, INC is a 501(c) (3) non-profit, charitable organization.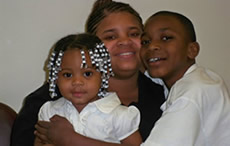 Thank you for your generous support and commitment which provides help and hope!
Individuals wishing to volunteer at
NHCF can email us at DSpruill@newheartga.org.